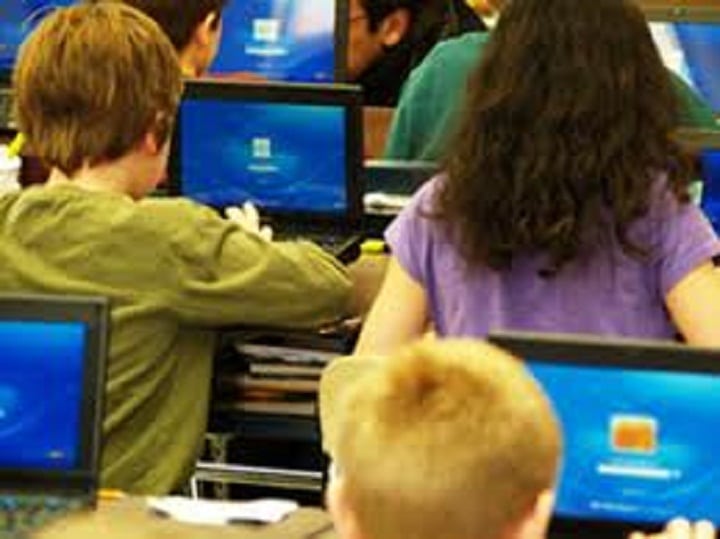 Balancing the demands associated with providing technology to students and meeting Ohio tech mandates, along with meeting the demands of a limited budget can be difficult for school administrators, but there are solutions. thinkCSC believes the right answer for schools is in taking a balanced approach to investing in technology.
While many schools are joining the trend of buying iPads for their students because of their extreme portability, iPads are also costly – around $500 each. iPads are also more difficult to maintain, because the proprietary technology and warranty requires Apple-certified technicians. When you're talking about technology for students and you realize the amount of handling (and mishandling that might occur), iPads may not be the most cost-effective solution in the long-run.
Some of the schools we've been working with over the past year have been able to obtain much better deals on laptops and netbooks, allowing teachers to introduce the technology to more students than ever. When you're shopping for laptops for your school, be sure to work with a local vendor who can negotiate directly with the manufacturer for the best possible pricing. thinkCSC was able to save one school more than $10,000 by leveraging our access to the Venture Tech Network.
Implementing new technology in schools cannot be about the price of the equipment alone, however. One of the most important cost savers a school can consider is the kind of warranty available. When many different hands will be using the equipment and many different minds will be finding creative ways to experiment with the technology, the warranty becomes the most important investment a school can make in technology. The extended manufacturer's warranty might be tempting, but having to call the manufacturer each time a piece of equipment breaks and having to troubleshoot over the phone to determine whether or not they will repair it can add a lot of frustration and cost to having technology in the school.
Instead, work with your local tech vendor to obtain extended warranty coverage that includes repair service. thinkCSC offers a 20% discount to schools on warranties for laptops, iPads and PCs. For example, if the manufacturer's extended warranty costs $100 for three years, we'll provide the same coverage for $80.
More importantly, rather than being required to troubleshoot equipment over the phone, ship product to the OEM or install the part- thinkCSC takes care of all those details, saving you not only money, but time! All your school has to do is fill out a web form or give us a call. With an average of 10-15 laptops needing some form of repair each week, thinkCSCare warranties can eliminate the need to hire a FTE Tech(s) and allow your IT Dept to focus on your mission: Supporting your students, faculty & administrators