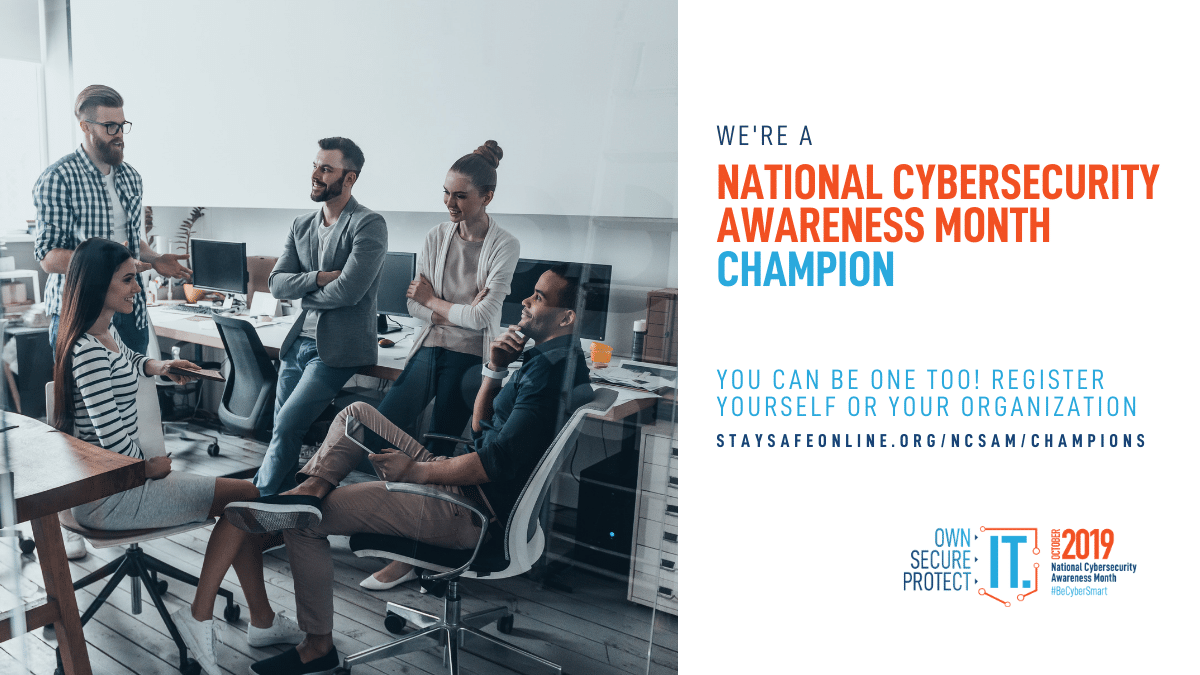 thinkCSC has joined organizations around the country as a NCSAM champion.
National Cybersecurity Awareness Month (NCSAM) is a collaborative effort between government and industry to raise awareness about the importance of cybersecurity and to ensure that all Americans have the resources they need to be safer and more secure online.
The Cybersecurity and Infrastructure Security Agency (CISA) is the federal lead for NCSAM and other national-level cybersecurity awareness issues, including the STOP. THINK. CONNECT.™ Campaign, throughout the year. CISA co-leads NCSAM activities, messaging, and events with the National Cyber Security Alliance (NCSA).
Protecting against cyber threats is a critical challenge for organizations of all sizes in both the public and private sectors. Every October for the last 16 years, NCSA and CISA have sponsored National Cybersecurity Awareness Month to help individuals and businesses become more cyber aware and vigilant in protecting themselves from cyber threats. As a NCSAM champion, thinkCSC is proud to do our part to encourage all Americans to take proactive steps that enable lasting, positive cybersecurity behavior change at home and at work.
NCSAM highlights the importance of empowering citizens, businesses, government, and schools to improve their cybersecurity preparedness. It reminds us that being more secure online is a shared responsibility and creating a safer cyber environment requires engagement from the entire American community.
This year, NCSAM 2019's theme is Own IT. Secure IT. Protect IT. emphasizes proactive steps to enhance cybersecurity practices, which is focused on encouraging personal accountability and proactive behavior in security best practices, digital privacy and draw attention to careers in cybersecurity.
Own IT.
Never Click and Tell: staying safe on social media
Update Privacy Settings
Keep Tabs on Your Apps: best practices for device applications
Secure IT.
Shake Up Your Passphrase Protocol: create strong, unique passphrases
Double Your Login Protection: turn on multi-factor authentication
Shop Safe Online
Play Hard to Get With Strangers: how to spot and avoid phish
Protect IT.
If You Connect, You Must Protect: updating to the latest security software, web browser and operating systems
Stay Protected While Connected: Wi-Fi safety
If You Collect It, Protect It: keeping customer/consumer data and information safe
Becoming more cybersecure is a collective effort, and we're proud to do our part as a NCSAM champion. We invite you to follow us on Twitter, Facebook, and LinkedIn as we share tips and guidelines throughout the month on best practices.
---
Additional thinkCSC resources:
thinkCSC Guide to Creating a Cybersecure Team
The Making of a Breach – How one Password Cost a Company Hundreds of Thousands of Dollars
thinkCSC's Email Security Guide
---
thinkCSC has more than 20 years of experience helping clients exceed their goals. We understand that business and technology are so intertwined that you can't be strategic about one without the other. We offer customized and bundled outsourced IT services you need to achieve your objectives; increase efficiency, productivity, and agility; cut down on IT costs; and ensure you have a competitive edge. Whether you want to outsource most or all of your infrastructure management, or if you simply want to optimize the systems already in place, thinkCSC provides personalized IT expertise that saves money and provides the manpower that ensures your infrastructure is always an asset – never a liability.
We would be happy to talk to you about how we can help you harness the power of our IT services in Columbus to maximize your reach, impact, and bottom line. Contact our business development manager today for more information.