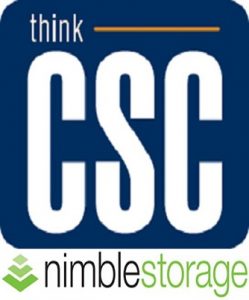 From filing cabinets to wireless hard drives, file or data storage has always been a key consideration for any organization. Adequate, reliable storage is a critical means of protecting your data and that of your customers. As well, your choice of data storage directly impacts server and application performance, making storage a critical component of your IT infrastructure.
The storage industry is in the midst of its largest transition in more than 20 years. Solid state storage (also referred to as flash storage) is becoming standard in most new laptops and tablets. Established storage companies are racing to integrate flash storage into their legacy devices, and new storage companies are emerging with new designs for flash. These new storage technologies introduce staggering benefits: power, density and incredible speed improvements
thinkCSC has recently partnered with one of the most successful pioneering storage companies: Nimble Storage. Nimble has developed a unique way of optimizing the best of both disk and flash storage options into a simple, easy-to-use storage solution, creating a "Hybrid Storage" technology that we believe will provide a significant advantage to our clients.
Nimble vs. Traditional Storage: Performance
Nimble's file system provides 50 times more performance than the traditional disk equivalent.
Hybrid storage offers speeds that rival flash performance but at disk prices.
Nimble vs. Traditional Storage: Simplicity
Nimble Storage setup takes less than an hour, and storage management is a breeze. We can add more storage in just a few minutes.
With Nimble's cloud-based InfoSight, our storage array is monitored by Nimble support in real-time.
Using the InfoSight portal, we are able to track usage and performance data over time, providing you with much more transparency and information than with traditional storage methods.
Nimble vs. Traditional Storage: Data Protection and Security
Nimble offers near-instant data protection and data recovery with its built-in snapshots. Snapping data every 15 minutes with several months of retention gives us a very simple, yet complete protection strategy with very little space utilization. In the event of data loss, entire volumes or individual files can be recovered.
Since snapshots and replication are included for free, we can easily add an offsite array for offsite date retention and disaster recovery.
Nimble's snaps require less space and provide extended retention capabilities without impacting performance, thereby offering a huge improvement over traditional storage technology.
If you're interested in seeing how Nimble can save your business time and money while providing better data security and protection, contact our team today for a demo.