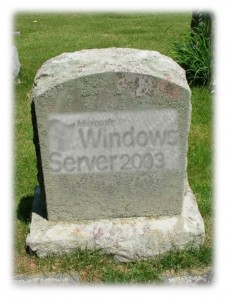 If you thought it was tough to adapt to the extinction of Windows XP, you'll find yourself mired in a tar pit if you don't soon take action to upgrade your Windows Server 2003 operating system. If your business is utilizing Windows Server 2003, begin your countdown now: Support for Windows Server 2003 will end July 2015, and businesses that hope to escape issues associated with bottlenecks, security, and third-party applications need to upgrade now.
Don't Let Your Business Be Affected
Even though Windows Server 2003 has a short amount of life left in it, the third-party applications you use are going to create issues sooner than later – and may already be affecting your processing speed and uptime. Newer applications use larger amounts of paged-pool and non-paged-pool memory, something Windows Server 2003 simply wasn't built to handle. This will cause your server to slow or stop running, requiring a reboot. Slowed and down systems are costly – and in the long run are more costly than upgrading to the recommended Windows Server 2012.
Don't Let Windows Server 2003 End of Life Herald Your Doomsday
July 14, 2015 may seem far enough away to keep you from sensing any imminent doom, but the application-moving process required to upgrade your server from Windows Server 2003 to Windows Server 2012 is a time-consuming and delicate process requiring:
Application inventory
Analysis of which applications are using which servers
Careful planning of server migration and application updates
With proper planning, your migration from Windows Server 2003 to Windows Server 2012 can be a relatively painless process. The thinkCSC team is here to handle all of the heavy lifting for you. Failure to migrate in a timely manner will result in security issues, reduced functionality, issues with applications on which your teams rely, and increased downtime.
Take Action Now
Windows Server 2003 has moved to the top of the endangered species list. Better performance and security is within your grasp. We recommend upgrading to Windows Server 2012 as soon as possible to ensure ongoing security and stability. If you're not sure where to start, thinkCSC can facilitate the migration of your Windows Server 2003. Contact us today for more information.