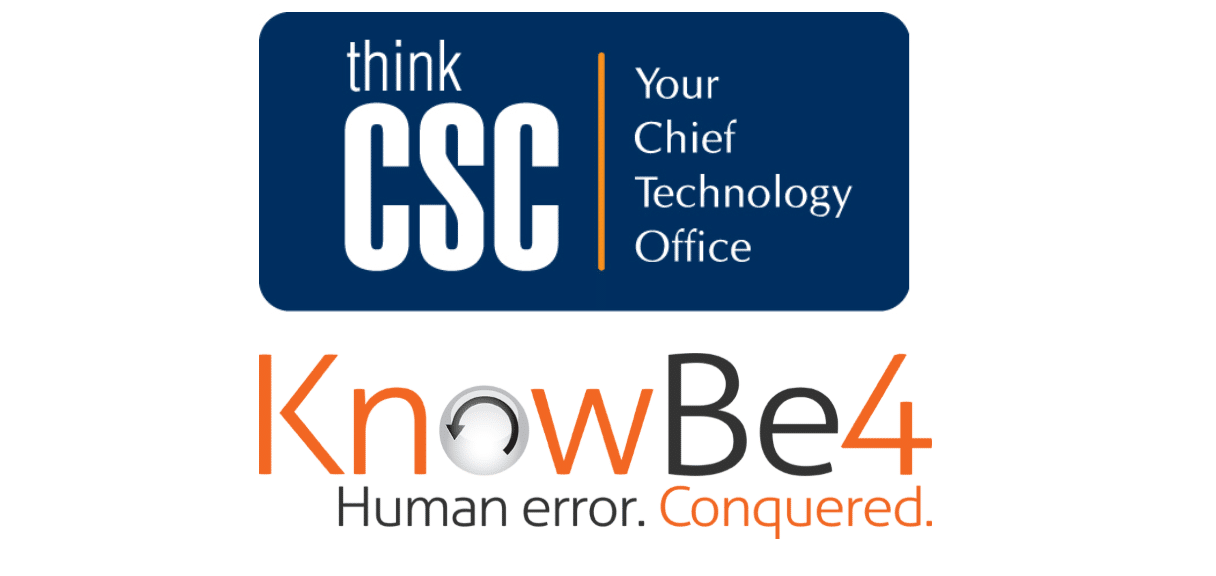 thinkCSC and KnowBe4 partner to strengthen employee security knowledge and training
Columbus, OH – September 2017 – thinkCSC, the leading provider of information security solutions in Columbus, has chosen KnowBe4 Inc. as a partner to deliver its best-in-class security awareness training and simulated phishing. thinkCSC's partnership with KnowBe4 is designed to provide thinkCSC clients opportunities to strengthen their first line of defense: their own employees. KnowB4 has the world's largest library of security awareness training content.  The partnership with KnowBe4 complements thinkCSC's existing efforts to improve awareness.
"Cybersecurity awareness and training must be a part of every organization's arsenal," said Tom Hastings, President of thinkCSC. "Protecting your organization from cyber threats starts with empowering employees to be part of the cybersecure solution."
With over 90% of data breaches caused by phishing attacks, employees are frequently exposed to sophisticated phishing and ransomware attacks. The difference between those attacks succeeding and failing is often the level of training and awareness of the individual. thinkCSC is committed to helping clients of all types and sizes be more cybersecure, and the partnership with KnowB4 helps ensure that.
Organizations need every person on the team to be cyber smart and acting as part of the proactive response to preventing breaches. KnowBe4 will help thinkCSC ensure that every member of the team in every organization is. Add to that ransomware and CEO fraud (also called Business Email Compromise or BEC), organizations are being barraged with social engineering attacks. These types of attacks focus on individuals who are targeted by cyber criminals. New-school security awareness training mitigated these threats effectively reducing an organization's risk.
About KnowBe4
KnowBe4, provider of the world's most popular integrated new-school security awareness training and simulated phishing platform, is used by more than 14,500 organizations worldwide. Founded by data- and IT-security expert Stu Sjouwerman, with backing from Elephant Partners and Goldman Sachs Growth Equity, KnowBe4 helps organizations address the human element of security by raising awareness of ransomware, CEO fraud and other social engineering tactics through a new-school approach to security awareness training. Kevin Mitnick, internationally recognized computer-security expert and KnowBe4's Chief Hacking Officer, helped design KnowBe4's training based on his well-documented social engineering tactics. Thousands of organizations leverage KnowBe4 to train their workforce to make smarter security decisions and create a human firewall as an effective last line of defense.  KnowBe4 is headquartered in Tampa Bay, Florida with European offices in London and Amsterdam. For more info, visit http://www.knowbe4.com and follow Stu on Twitter at @StuAllard.
About thinkCSC
Investing in your technology is the best way to empower your organization's future. When you partner with thinkCSC, we act as your chief technology officer by aligning your IT with your business goals. Whether you need to outsource all of your technology needs or give your existing IT department a boost, we're proud to serve you professional IT services from server and network solutions to data backup and recovery and server migration and deployment. Contact us today to learn more.